The Holidays are near, so here's where to go to sip on some Cheer!
Miracle at Hidden Bar
Miracle is a delightfully festive Holiday Pop-up in Hidden Bar at Noelle. They serve Christmas themed craft cocktails and the bar is decked out in holiday lights and décor.
You literally feel like you stepped into a Christmas Wonderland. I went to this last year and I can't wait to see what they do this year. It was by far one of my favorite holiday activities in Nashville and the drinks take your mouth on its own little Holiday vacation.
This pop-up is open from Monday, November 25th– Tuesday, December 31st. You have to go in through Makeready (restaurant) on the bottom floor of the Noelle Hotel. Then you go past the bar (on your way toward the restroom), look off to the left for the Aqua Storage closet door. Enter the Storage closet into this magical place. Be warned that there is sometimes a line to get in, but trust me, it is well worth the wait.
P.S. If you are here on December 2nd, they are hosting an Ugly Sweater Party!
Location: 200 4th Ave N, Nashville, TN 37219
Glow Nashville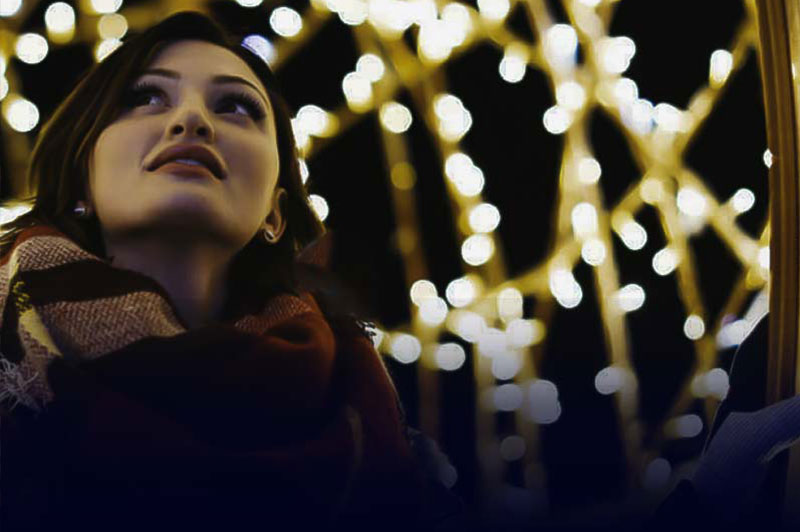 Glow is Nashville's newest Holiday Pop-Up and everyone is talking about it. It is a true holiday experience for you and your friends. There are multiple attractions that include:
❄ Misletoe Cafe
Misletoe Cafe is a heated space with holiday drinks and snacks along with Christmas movies and holiday music for you to kick back and warm up.
❄ Blitzen's Band Box
If you want a Holiday cocktail in an adult-only space (21+) then this is where you will want to be. There will be igloos, fire pits, games, ice shots and more… they even say, "it is perfect for a Girls Night Out".
❄ Winterfest Market
Multiple local vendors will be throughout the market for you to shop. You will be able to get gifts for others or treat yourself with jewelry, art, skincare products and more.
❄ Reindeer Run Tube Park
This is a 170-foot-long and 32-foot-tall tubing track. You can race your friends down the track for a little friendly competition.
❄ Frozen Fortress Skating Rink
This is self-explanatory, it's a skating rink! There is, however, a 3-story viewing area, for those in the group who do not skate.
❄ Santa's Workshop
Can you say FREE photo with Santa? How cute would this be for a group photo of you and your Bride Tribe with Santa?
Tickets:
General Admission: $29.99
VIP: $79.99
Add-Ons: Ice Skating & Tube Park
Get your tickets here:https://glowholiday.com/tickets/
Location: First Tennessee Park: 19 Jr Gilliam Way, Nashville, TN 37219
The Rooftop of the Bobby Hotel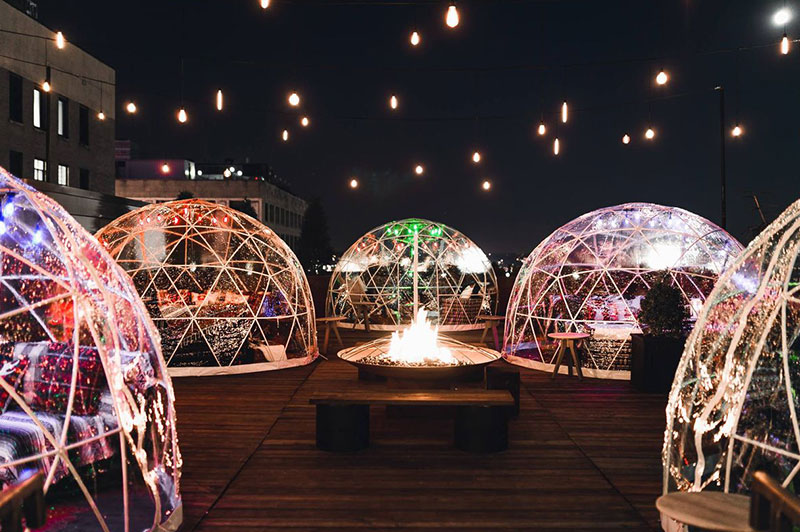 The Bobby Hotel's Rooftop Igloo Bar is one of my favorite holiday viewing experiences. They transform their rooftop into a little Igloo village. You can enjoy the heated igloos on a first-come, first-serve basis. However, there are plenty of opportunities for photos around the igloos.
They have curling for you to play with friends or you can hang out in the 1956 Scenicruiser that was made to fit on the roof (great photo opp) or just sip away at the rooftop bar. They serve spiked Hot Chocolate and Spiked Cider along with a full list of wintery cocktails that are sure to have you warmed up in no time.
We recommend reservations. You can eat in the igloos on Friday and Saturday nights. There is, however, food and drink minimums so just be sure to ask about that. The festivities begin on November 14th!
Location: 230 4th Ave N, Nashville, TN 37219
Headquarters Beercade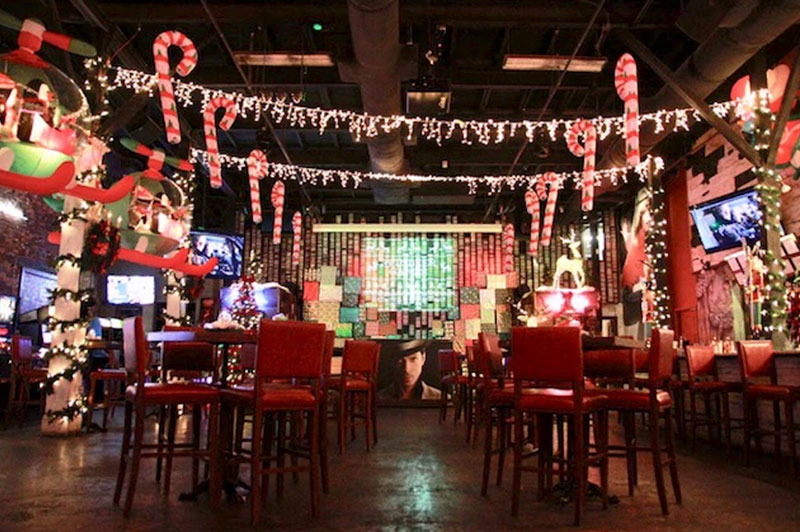 Reindeer Games Christmas Pop-up at Headquarters Beercade Nashville makes its return on November 22nd. This is a fun spot the whole year but at Christmas, they completely transform it with a fun holiday vibe. They have lights and candy canes hanging from the ceiling. There is a sleigh and display right when you walk in that is the perfect spot for all those Gram-worthy photos!
They have the whole list of mouth-watering festive favorites on their craft cocktail list. Along, with these delicious drinks, they also offer holiday-themed snacks that are both cute and delicious. Be sure to snack a picture before you take a bite or a sip of these Christmassy delights!
Santa's Snack is my favorite drink on the menu because it literally comes with a snack! It is a delicious spiked milkshake served with 6 chocolate chip cookies. We recommend sharing it though if you plan to drink a lot because it sits heavy.
Location: 114 2nd Ave S, Nashville, TN 37201
Article written by @sheenaolynn